I have so many wonderful things to be
1. Creating new opportunities in my business life
2. The work of my hands and the blessings upon them and my work
3. My Mary Kay girlfriends and the support and love and receive from them
4. The beauty supply store and the candy store it is too me....Just love it and all the fun I have in there seeing all the wonderful products to help achieve beauty for my clients.
5. Hubby fixing dinner for us ....He is a wonderful gourmet chef! Wish he would cook more often. Love it! When he does!
6. An afternoon movie at the theater house
7. Happy smiling faces that leave my salon after they get their hair done
8. Knowing God is my provider and He has all things covered perfectly in Him
9. Phone calls from my sisters
10. New hair braid for my hair
11. Blog back up and running
12. Working
13. Eating fresh BBQ'd salmon for dinner
14. Honoring those that gave their all for my freedoms and the freedoms of others
15. Outstanding grandchildren that are high achievers! (So very proud of them all and each of their amazing achievements)
16. Getting my wisdom highlights covered and turned into youthful color once again
17. Having prayers with my friends on the phone, at work, wherever I am; being able to stop and pray for the need at hand
18. Having money to buy dinner for the next few nights
19. Knowing my baby girl survived a very dangerous mishap at work.....thank you Lord for watching over her
20. My faith
21. Getting off early from work and being home before the storm hit
22. Getting back to blogging
23. Getting package off in the mail to a customer and friend her product she ordered
24. Fresh vegetable's and fruits
25. God's grace given me fresh daily
"My God shall supply all your need according to His riches in glory by Christ Jesus."
Enter his gates with thanksgiving and his courts with praise;
Give thanks to him and praise his name.
For the Lord is good and his love endures forever;
His faithfulness continues through all generations. -Psalm 100:3-5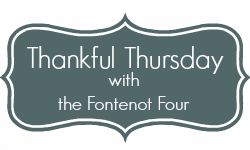 www.marykay.com/ehernandez1