I have so many wonderful things to be
thankful for............
1. The gift the Lord blessed me with in doing hair and helping those that cannot do it themselves
2. Clean clothes
3. Clean hair
4. My tools of the trade especially my scissors
5. The phone message. IM, email, or text I never get .....though I want it very much....I know there is a reason...And it is okay if I never hear from them again...though it hurts I will be thankful for the friendship we shared
6. My new hair cutting scissors
7. Rock road ice cream
8. Toasted cheese sandwich
9. Paying bills
10. Getting jewelry cleaned and sent off to get repaired
11. Just having a lazy Saturday morning
12. Watching old John Wayne movies
13. Praying for needs of those I love and are in my circle of friends
14. My sweater that keeps me warm
15. Going to the Children's Theater and watching the performance of Peter Pan
16. Looking at real estate
17. Rainy days
18. Ice cream
19. Prayers
20. The country I live in
21. Money to buy a nice dinner for hubby
22. Teeth to eat with even if they hurt all the time grateful to have them
23. That my paper work I have need of was easy to find
24. Glad that the Lord directs my path even when I don't understand
25. That I always seem to have the more than enough....so extremely grateful!
26. being able to get in and see the Legal assistant much earlier than scheduled
27. Paper work in order and in the mail
28. Blow dryer to dry my hair
29. Answered prayers
30. Socks to keep my feet warm
31. Tears of healing
32. Teaching and training on emotions and how to run a successful business
33. Being able to be a raging bull and still be loved afterwards
34. Not having to drive.
35. God's perfect Love for me


"My God shall supply all your need according to His riches in glory by Christ Jesus."
Enter his gates with thanksgiving and his courts with praise;
Give thanks to him and praise his name.
For the Lord is good and his love endures forever;
His faithfulness continues through all generations. -Psalm 100:3-5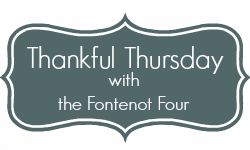 www.marykay.com/ehernandez1