I have so many wonderful things to be
thankful for............
1. The extra clients wanting haircuts today! What a super blessing!
2. Getting oil changed in car
3. The plate of cookies that the new neighbors brought over fresh from the oven. YUM!
4. The new pro app for my phone as a gift WOW! Thank you Gina!
5. New shoes
6. Waking early
7. Driving to Madras Oregon with friends for a couple of days
8. Laughter
9. Prayers for safety
10. Being able to pray for others and their various needs they have
11. Home made S'mores in the oven that are super HUGE
12. Making a beaded necklace
13. A girls weekend sleepover
14. A beautiful beaded shawl
15. Beautiful evening sky hand painted by God for me to enjoy
16. A leisure walk along the canal
17. Pretty rocks at the Rock Hound show in Madras Oregon
18. Fresh garden salad that was grown in the garden then handpicked and served
19. Winning ten dollars
20. Finding the joy in life daily
21. Finding my car keys that weren't exactly lost...but hubby had put away were I couldn't find them
22. Getting a big box of fire works at Costco for the kids
23. A quiet day!
24. Lotion
25. Massage
26. The rise of a new day
27. My tooth brush and mouth wash
28. Clean towels
29.. Blackberries
30. God's love for me
"My God shall supply all your need according to His riches in glory by Christ Jesus."
Enter his gates with thanksgiving and his courts with praise;
Give thanks to him and praise his name.
For the Lord is good and his love endures forever;
His faithfulness continues through all generations. -Psalm 100:3-5
(Because it has been so long since I have put a Thankful Thursday up. I'm not sure this link is still there. But Praise God I will find one. And that I have something to be thankful for everyday.)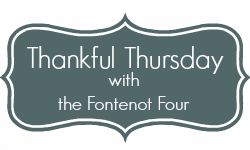 September Joy Dare
Day 4
A gift cool, warm, and sun soaked
The cool brisk morning air the feel of Fall
Warm car after sitting in the sun all day
Sun soaked in the last warm days before Fall takes over; loving the last warm days of the year!