Here we are on Thankful Thursday!
No better place to be than here on Thankful Thursday
What better time to start then Now!
With a list full of thankfuls
So many wonderful things to be thankful for
Isn't it wonderful to be able to make a list and share all the many blessing that you are thankful for?
Come and join the fun
I am linking up with:
Grace Alone
As well as:
Black Tag Diaries
The Fontenot four
http://fontenblog.blogspot.com/

Come and see what others are thankful for.
I know I'm very excited to share the wonders of the Lord through my thankful list
What about you?
***********************************************************************************
Getting some shifts at the hospital.
Getting offered a salon where a lady is retiring soon
Laughter
Hearing from old friends
Prayers
Rain coat and umbrella
My Dansko shoes
My 2-1 body wash from Mary Kay
Quiet nights
Smiles that make your day
Jello
Good books to read
Table lights
Email and Face Book
Gods word
Chicken pasta surprise fro dinner
My blog to share my thankfulness, and express my creativity; along with being able to journal
Warm cozy bed with lots of blankets and pillows
God's favor
Work for my hands
What gifts have you unwrapped this week that your thankful for?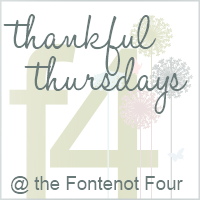 If you have a thankful link;
I would love to link up with you.
Please leave me a note and I will gladly add you to my list.
Thank you!
www.marykay.com/ehernandez1
Ankle
March 5,2013
Below are two fundraiser links to help with medical bills.
We have no medical insurance to cover medical.
As the weeks have gone by since I have started back to work
The ankle continues to have many issues
I will be seeking second opinion
God is faithful and I trust this is going to be paid in full;
and every need meet through Him