This week over at Jenny's
Here's this weeks challenge:
WORD COUNT - Not to exceed 126
STYLE OF WRITING - Any
MUST USE - Every single letter of the alphabet in your little story.
PICTURES - Any
So lets see what I can do with this challenge!
Ankle
Broke
Crushing pain
Damage
Emergency surgery
Gigantic boot
Helpless
Isolated from the world
Jittery nerves
Kept immobile
Leg kept high
Medicine to fight the pain
Necessary for healing
OH! What fun!
Pain
Quivering from being unstable
Resting
Support from family and friends
Tough road ahead
Unexpected gifts
Visions of
Walking once again
X-rays
Yielding hope
Zeroing in on a zany future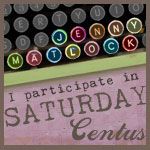 Have you ever dealt with a serious injury?
Healing Taking Place
Below is two fundraiser links to help through this four months of recovery and medical bills. As I carried half the bills through my work.
We have no medical insurance to cover medical.
We are in the process of applying for help.
Through much prayers and through encouragement of some friends they suggested I give these a try.
Medical bills are piling up.
Just the few that have arrived already are near $30,000.
God is faithful and I trust this is alp going to be paid in full;
and every need meet through Him
Sweet Plum