GOOD MORNING!
Here we are on Thankful Thursday!
No better place to be than here on Thankful Thursday
What better time to start then Now!
With a list full of thankfuls
So many wonderful things to be thankful for
Isn't it wonderful to be able to make a list and share all the many blessing that you are thankful for?
Come and join the fun
I am linking up with:
Grace Alone
As well as:
Black Tag Diaries
The Fontenot four
http://fontenblog.blogspot.com/

Come and see what others are thankful for.
I know I'm very excited to share the wonders of the Lord through my thankful list
What about you?
***********************************************************************************
Surprise drives to see friends from out town with other friends

Gas in the car to go to work and do errands

Quarters to do laundry

Clean clothes

Gods ever lasting love for me

Being able to to do the work I love to do

Light bulbs and light

One more day to be thankful for

Heat to stay warm by

Keys that represent my work and life of what I do

Junk mail

Stamps to mail bills

My glasses so I can see and read

gloves to keep my hands warm in the cold

The love of my children and grandchildren

The sunshine of the past week and blue sky's

Wholesome family movies

God's promises for me in His word

Hangers to hang my clothes on

Camera filled with memories and pictures that bring smiles of joy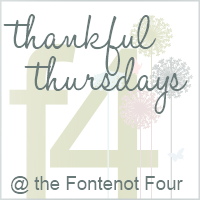 If you have a thankful link;
I would love to link up with you.
Please leave me a note and I will gladly add you to my list.
Thank you!
www.marykay.com/ehernandez1
Ankle After Work
1-21-2013
Below is two fundraiser links to help with medical bills.
We have no medical insurance to cover medical.
As the weeks have gone by sine I have started back to work
The ankle continues to have many issues
I am thinking about a second opinion
But that isn't really the reality for me.
So hoping come the end of the month the doctor will have some answers.
I have only been working about 16 hours a week
Some weeks even as little as four hours a week.
The bills are coming in as I struggle with each one
The medical bills are the hardest ones.
They really don't like working with you.
But God is faithful!
Praise the Lord!
Received our first pay check
It doesn't stretch to far either.
The bills come tumbling in.
And through encouragement of some friends they suggested I give these a try.
Though only two people have responded.
God has been faithful in other ways.
Medical bills are piling up.
Just the few that have arrived already are near $30,000 plus.
God is faithful and I trust this is alp going to be paid in full;
and every need meet through Him