Here we are on Thankful Thursday!
No better place to be than here on a Thursday
What better way to start a day!
With a list full of thankfuls
Each one fills my heart daily with the richness of His glory and love for me!
I have so many wonderful things to be thankful for
Isn't it wonderful to be able to make a list and share all the many blessing that you are thankful for?
Come and join me in the fun in giving thanks with a grateful heart!
I know I'm very excited to share the wonders of the Lord through my thankful list
1. Heat to stay warm in this cold Arctic Winter weather
2. Warm lined socks with wool
3. Hubby that made homemade Chili Verde for dinner
4. My new cleansing brush in our Mary Kay line feels like polished skin after cleaning. I don't think my skin has ever felt so clean. Love it!
5. Luggage to pack for my up coming trip/and the two new pieces mom bought for me for Christmas/birthday gift. Just in time for my latest trip.
6. The view of the moon this evening. Beautiful crystal slice of shining beauty
7. New eye colors
8. Moms homemade sugar cookies
9. The sunshine and blue skies of the past week
10. God's promises
11. God's perfect provision daily
12. My 3 new snowmen that have been added to my collection this year
13. Phone calls that put smiles upon my face
14. Laughter of loved ones
15. Soda with the girls
16. Lotion and moisturize for the face and body
17. Brisk short afternoon walks
18. Scarfs, mittens and warm hats to stay warm in the bitter cold
19. Christmas lights
20. Eyesight to see all the beauty around me that God has created for me to enjoy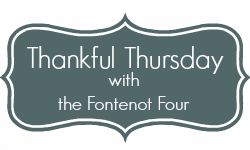 www.marykay.com/ehernandez1