I have so many wonderful things to be
1. Hubby making me soup and serving me when I came home for lunch
2. Mary Kay meeting and seeing all the wonderful ladies that help encourage me and support me no matter where I am in my business
3. Jeans with bling on the bottom pockets
4. Tips for my service's rendered
5. Afternoon naps
6. Meeting new people and connecting with them
7. New business opportunities
8. Homemade desserts
9. Being able to help others achieve their dreams and goals
10. Knowing that because of God in you and who He created you to be....I do make a difference and that He has great plans for me and my future
11. Getting taxes all put together ready to see tax person
12. typing up foundation request for a wheelchair
13. Money to go grocery shopping with (Thank you Lord!)
14. Talking with some of your oldest and best of friends that get you even when your upside down ~Love~
15. No more re-runs
15. Homemade corn beef and cabbage dinner
16. My printer to be able to print things off that need to be done
17. Airline tickets to Sacramento to do some Mary Kay work as well as see my girls and grandchildren
18. God's complete favor on my life
19. New skirt and dress for business trip
20. The love and prayers of friends when you call and say.....I need prayers......
21. Answered prayers ........even when it isn't the way we think it should be......Thank you Lord for your perfect answer for our needs!
22. Getting my hair colored
23. Unexpected phone call at work that makes me blush and giggle with laughter.....
24. Leftovers (Corn beef and Cabbage)
25. Knowing God's provision is perfect and He will meet all of my needs above and beyond
26. A surprise late birthday present from my sweet friend Shari! She had been ill and still wanted to celebrate me even a month late!
27. Meeting up with Geo today un-expected and having a lovely hour with her for a drink and appetizers at Apple Bees
28. Finding the cutest roommate gifts ever for this weekend at Conference for the ladies I will be sharing a room with
29. God's grace for the day
30. God's favor and Victory in every situation that comes my way!
"My God shall supply all your need according to His riches in glory by Christ Jesus."
Enter his gates with thanksgiving and his courts with praise;
Give thanks to him and praise his name.
For the Lord is good and his love endures forever;
His faithfulness continues through all generations. -Psalm 100:3-5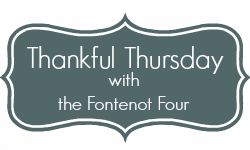 www.marykay.com/ehernandez1