For this week...
WORD COUNT - Up to 100 words AND the 7 words of the prompt (107 total maximum words - For those of you that want more words please feel free to link up multiple stories!)
STYLE OF WRITING - Any
USE A PICTURE IF YOU LIKE
THE PROMPT THIS WEEK IS: "what kind of a pizza is this"
The regular restrictions apply: PG, no splitting of the prompt, play nicely and visit the other entries, any style or genre of writing you prefer.
http://jennymatlock.blogspot.com/2011/09/saturday-centus-what-kind-of.html
I'm really having a lot of fun with these prompts. They are creative and truly makes my made go to work! This weeks prompt will present some difficulty for me as I'm not a huge pizza fan and ... well it is a very hard prompt.
If you haven't meet Jenny please hop on over and meet her and all those who link up their creativity with her. They are always some very clever and talented writers linked up for the prompts as with all links. I'm never disappointed! You wont be disappointed either I'm sure of that. Have a wonderful safe weekend!
On with the prompt:
A pinch of this and a dash of that
Makes the sauce one of a kind
"What kind of pizza is this..?"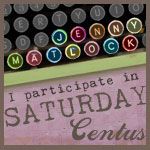 Do you like pizza? What is your favorite?