Here we are on Thankful Thursday!
No better place to be than here on a Thursday
What better way to start a day!
With a list full of thankfuls
Each one fills my heart daily with the richness of His glory and love for me!
I have so many wonderful things to be thankful for
Isn't it wonderful to be able to make a list and share all the many blessing that you are thankful for?
Come and join me in the fun in giving thanks with a grateful heart!
I know I'm very excited to share the wonders of the Lord through my thankful list
1. For the time off the past two weeks as we have celebrated the birth of our Savior and the birth of a New Year
2. Great shopping adventures with girlfriends and the great bargains and finds
3. The New Year wishes from loved ones and friends far and near
4. A full Monday and Tuesday of client's at the salon
5. Movie night with hubby - watched "The Family"
6. Knowing I make a difference in someones life
7. God's favor
8. Surprise gifts from friends that brighten my day with love
9. Seeing how the Lord has stretched our fiances this past year in ways that only He could ~ Thank you Lord!
10. Getting my hair done on New years Eve day for the New Year! Truly was a blessing that I wanted and was surprised by Melody when she came to the salon and did my hair for me.
11. Timely fitted messages and words sent via those who the Lord knew would deliver; sent in various ways to show His hand of love upon me and my family. Answered prayers and needs being meet. Only He would have known as no one knew. Thank you Lord!
12. Smiles sent across the phone lines and text messages that bring joy to my heart in ways that I never knew could exist.... making me feel special
13. Knowing God has a great future ahead for me
14. Sleeping in
15. Lunch bought for me
16. Being a grandma to the ten most amazing grandchildren anyone could possible have
17. Hot showers and warm fuzzy jammies
18. Storage buckets for tax papers purchased at 50% off
19. Getting all the old calendars of 2013 down and all the new ones for 2014 put up
20. The joy and hope I feel for the coming year waiting for me to unwrap and enjoy!
"My God shall supply all your need according to His riches in glory by Christ Jesus."
Enter his gates with thanksgiving and his courts with praise;
Give thanks to him and praise his name.
For the Lord is good and his love endures forever;
His faithfulness continues through all generations. -Psalm 100:3-5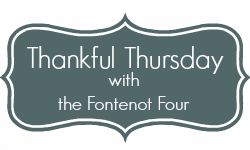 www.marykay.com/ehernandez1