Here we are on Thankful Thursday!
No better place to be than here!
What better way to start a day!
With a list full of thankfuls
Each one fills my heart daily with the richness of His glory and love for me!
I have so many wonderful things to be thankful for
Isn't it wonderful to be able to make a list and share all the many blessing that you are thankful for?
Come and join me in the fun in giving thanks with a grateful heart!
I know I'm very excited to share the wonders of the Lord through my thankful list
1.For the warmth of my coat and scarf that keeps warm when I'm out and about town.
2. The birth of my grandchildren each and everyone of them. As we celebrate each ones special day the Lord has blessed us with. Ten amazing children growing into fine young adults.
3. The work of my hands and the talent I have been blessed with.
4. The bills being meet monthly even when it doesn't look like they will. Somehow my God shows up and stretches those dollars in amazing ways.
5. Afternoon naps that refresh me
6. Food in the cupboards and refrigerator
7. A husband that provides
8. Relaxing lazy days with friends on short mini road trips and adventures that are like mini vacations
9. Prayers that come when you must need them and answered so quickly
10. Nail polish remover
11. Discount cards that you can share with friends and split lunch with
12. Light to work by as well as enjoy reading and doing crafts
13. Photos that bring back memories of love and joy
14. Music
15. Phone calls from my daughters and grandchildren
16. The hope I have in the Lord
17. The dreams I have in my heart
18. My mom
19. Being loved by God!
20. That I had today to share and live life to the fullest
"My God shall supply all your need according to His riches in glory by Christ Jesus."
Enter his gates with thanksgiving and his courts with praise;
Give thanks to him and praise his name.
For the Lord is good and his love endures forever;
His faithfulness continues through all generations. -Psalm 100:3-5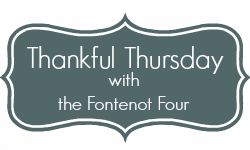 www.marykay.com/ehernandez1