Here we are on Thankful Thursday!
No better place to be than here!
What better way to start a day!
With a list full of thankfuls
Each one fills my heart daily with the richness of His glory and love for me!
I have so many wonderful things to be thankful for
Isn't it wonderful to be able to make a list and share all the many blessing that you are thankful for?
Come and join me in the fun in giving thanks with a grateful heart!
I know I'm very excited to share the wonders of the Lord through my thankful list
1. Being my own boss
2. Meeting up with old friends I haven't seen in years and being blessed by their love for the Lord and a renewed friendship
3. Time spent with my mom
4. Bills being meet beyond what I could do! God's provision is always perfect! Thank you Lord!
5. My new water diffuser pitcher. Thank you mom....loving it!
6. Doing the monthly photo challenge with some friends and my daughter. We are putting them on Face Book, Instagram and here. So much fun!
7. Moisturizer and body creams, lots of lotions of all kinds to hydrate in this cold
8. homemade cookies from mom. YUMMY!
9. Unexpected gifts from my mom. Beautiful flowers and little trinkets of her love
10. Seeing my Aunt Carol
11. Safe travels
12. A piece of ply board for in front of my fireplace to the draft out and the heat in. Thank you hubby!
13. Friendships that stand the test of time (distance, time, life, tears, smiles and laughter; and so much more)
14. Standing in prayers with those I love and with those who just need prayers (Don't we all need them!)
15. Braces for my elbow, ankle and back
16. Electricity to cook, to light the house and stay warm by;just to mention a few
17. Winter coats, scarfs, and hats and lets not forget those mittens that keep our hands and fingers warm in the cold
18. My teeth so I can chew and eat many wonderful fresh foods
19, Gods word that lights the path of His love for me and where He is leading me
20. Ferry rides across the Pudget Sound in Washington
"My God shall supply all your need according to His riches in glory by Christ Jesus."
Enter his gates with thanksgiving and his courts with praise;
Give thanks to him and praise his name.
For the Lord is good and his love endures forever;
His faithfulness continues through all generations. -Psalm 100:3-5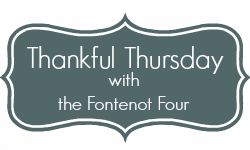 www.marykay.com/ehernandez1