Here we are on Thankful Thursday!
No better place to be than here!
What better way to start a day!
With a list full of thankfuls
Each one fills my heart daily with the richness of His glory and love for me!
I have so many wonderful things to be thankful for
Isn't it wonderful to be able to make a list and share all the many blessing that you are thankful for?
Come and join me in the fun in giving thanks with a grateful heart!
I know I'm very excited to share the wonders of the Lord through my thankful list
1. That we final got some Winter weather here in the PNW! I don't much care for it! Hey....but we need it! So very thankful for it!
2. Snow shovel
3. The beauty that was created by the snow storm and ice storm this past week and weekend
4. For my wonderful friend Mary who picked me up in her four wheel drive and took me to work on Friday and brought me home. What a huge blessing for me as well as my Ladies.
5. Winter headband to protect my ears from the wind and cold.
6. Re-connecting with old friends from school
7. Phone calls from friends in California that brighten my day everyday
8. Getting my bills paid and having the money to do it! Thank you Lord Jesus where my provision comes from.
9. Hubby being able to use sick leave when he couldn't get to work this weekend due to snow. Thank you that it was there to be used and that they allowed him too. So extremely grateful!
10. My scanner on my printer
11. Being able to pray for those in need and hurting as well as just praying blessings for many of my loved ones
12. Hot showers and fuzzy warm jammies with matching feet warmers
13. Snow boots
14. Buy one get one free hamburger at my favorite burger stand
15. Spell check
16. Gods word!
17. Getting my hair done and looking and feeling years younger than I actual am
18. Hubby cooking dinner and making home made salsa this week for us well he was home on snow days
19. Hearing my daughters voices and my grandchildren when they call; as they live so far away I don't get to see them. I miss them terribly but am so grateful for the phone calls and pictures.
20. Laughter and memories made this past week in the snow and ice
"My God shall supply all your need according to His riches in glory by Christ Jesus."
Enter his gates with thanksgiving and his courts with praise;
Give thanks to him and praise his name.
For the Lord is good and his love endures forever;
His faithfulness continues through all generations. -Psalm 100:3-5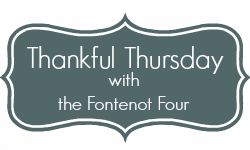 www.marykay.com/ehernandez1