Here we are on Thankful Thursday!
No better place to be than here!
What better way to start a day!
With a list full of thankfuls
Each one fills my heart daily with the richness of His glory and love for me!
I have so many wonderful things to be thankful for
Isn't it wonderful to be able to make a list and share all the many blessing that you are thankful for?
Come and join me in the fun in giving thanks with a grateful heart!
I know I'm very excited to share the wonders of the Lord through my thankful list
1. Quiet weekends resting and just being at peace
2. Running and playing with Mickey the sweet little dog that brings huge smiles to my face each time I see him
3. A quiet drive by myself down the Columbia Gorge to one of my favorite place's Multnomah Falls on a Sunday afternoon
4. Apologies
5. Oil change in my car and with a discount in price. YEA!
6. Being able to do pin curls on my client that I have every two weeks
7. Early to bed with lots of rest for early rise for work
8. Gods word that encourages me and sustains me in the storms
9. Phone calls just calling to check in to see how you are doing! WOW! I am truly blessed to have so many care and to call to see it I need anything and if I'm okay! Thank you Lord for amazing friends and family!
10. Purchasing my tickets for the Mary Kay Conference in Tacoma Washington in March
11. Having my niece thinking I'm "AMAZING!" I so love her and all the nieces and nephews; I am so blessed with family!
12. An extra day of no work......so that I could work from home on my Mary Kay business
13. The new bathroom sink
14. Working my taxes already ahead of last year. Now I get to sort out what is business and start the totaling process. Thank you Lord for the provision of work.
15. Mary Kay box arrived with new colors for Spring! So excited! took my product out and wore a new look! And have some on my shelf to sell!
16. Stapler
17. Large manila envelopes
18. Daily scriptures from the word of God that sustain me through the day
19. Morning prayers and the ones said throughout the day in fellowship with a closing pray of thanksgiving at days end. Love being able to just pray throughout the day to the one that first loved me.
20. My granddaughters safety along with all the other grandchildren. Glad that scary didn't become a reality. Thank you Lord for the hedge of protection encamped about each one of them and the love you have for them all.
"My God shall supply all your need according to His riches in glory by Christ Jesus."
Enter his gates with thanksgiving and his courts with praise;
Give thanks to him and praise his name.
For the Lord is good and his love endures forever;
His faithfulness continues through all generations. -Psalm 100:3-5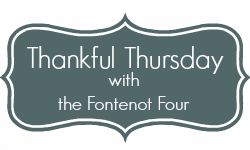 www.marykay.com/ehernandez1