Well I haven't done this link in awhile so I thought okay its time!
Especially since my grandson is eager to learn all he can about his mema.
You see he wants this blog to be made into a special book for him to have.
So the wonderful mema I am I will be putting fun things in here for him to learn about his family and his mema.
So if you head on over to "My Little Life"
And link up with the Five Question Friday.
Great way for others to get to know you.
So lets have some fun getting to know some fun trivial facts.
1. Do you apologize to your kids?
I think it is very important too do so.
2.
What color are your nails right now?
Well if we are talking on hands they are all natural.
But if we are talking my toe nails... that is another story.
They are hot ruby red with sparkles on them.
3.
When you were growing up, how difficult was it for you to stay home from school sick? (As in, did you have to vomit or just say "I don't feel good".)
Well you had truly be sick when I was a kid or there was no staying home. You would be given the dreaded Castor Oil. You had to stay in bed no TV no fun!
I wasn't one to like any of that! So sad to say I learned to cut school and play hooky young. But alas that didn't last long either they caught on quick and that was the end of that!
4.
When is the last time you bought a new comforter for your bed?
Gosh! Well! Hmmm..... I'm thinking maybe way too long here!
I think I will have to buy a new one for the Winter.
I don't think I have favorite websites. I just travel about.
Though I must say i do love my Mary Kay website. I do spend a lot of time there.
Though it is usually cause I'm working or learning about our products.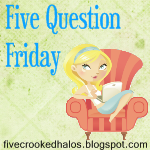 Do you have pinics or BB Q's on Memorial weekend? Or any other family activity?