I'm so excited I saw this "Five Question Friday" Link this morning before I left for work. But didn't have time to answer and post. So I thought I would do them this evening. I have so much fun with the Q & A's.
So this little Question set comes from "My Little Life" A beautiful blog I might add as well. If nothing else go check her out. You will be blessed.
http://fivecrookedhalos.blogspot.com/2011/04/five-question-friday-4111.html
1. Have you ever had surgery?
Oh Yes! Some I remember very well. Others not so well! And then those that were so needed! Thank you Lord for those that tend to us in our medical needs.
2. Ever ride in an ambulance?
Yes! I have more times then I would like to tell you that I have. Thank you Lord for each one and those that serve us the immediate medical attention that we need and get us to the hospital.
3. How are you in a medical emergency? Panicked? Calm?
I think I could go either way. It really depends on the situation I think. As I deal with emergency in the salon and other places and am very calm and do what I need to do. But... Then if it is someone I love it could go over the top I'm sure!
Mostly Calm though!
4. Do you have a garden? Flowers or veggies?
Yes! I have planter pots as we live in an apartment. I so miss a yard and the dirt of a garden. But this will do until we have another home once again with a beautiful yard. Right now it is just flowers. In fact hoping to get the patio flowers cleaned and some fresh ones planted this weekend. Maybe!?
5.
When did you move out of your parents house?
Much to young! I moved out when I was still in High School and got my own place. I hated the rules and was told live by them or move out. So I thinking I knew everything moved out! I was in my Senior year of High School. They where smart though. They still had the upper hand. Moved me into an apartment that was across the street from the one my dad was the apartment manger of and was very good friends with the manger where I moved too. So they still had their hands and eyes upon me. I love them for the wisdom and giving me the room to grow and learn. The best parents in the world!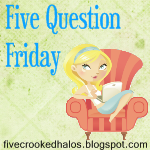 How is your Friday going? Any big plans for the evening hours?