THE PROMPT THIS WEEK IS THE ABOVE PICTURE. YOU ARE WRITING YOUR STORY AS YOU LOOK OUT THAT WINDOW.
WORD COUNT - Not to exceed 100 words.
STYLE OF WRITING - Any
NO ADDITIONAL PICTURES
As I peered out the window
I wonder is this football
Or maybe it is a game of soccer
No!
As the children listen with

intense enthusiasm
Coach's show them each play
As each one is huddled around for the next winning tip and play
That will bring in the winning score
As the time tics by
Each second counts
But only one will make the winning play
Lets get on with the game!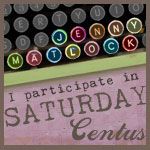 Did any of your children or yourself play sports?