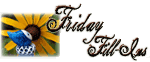 I've only done this link up a few times.
I thought I would join in today.
The funny thing is I'm turning this blog into a book for my family; so I thought it would be wise to add some fun trivia and things like this in it.
My grandson is very excited about this so I have to remember to add fun trivia.
So here is fill in the blanks:
1. Hey! There.
2.
A
kernel of truth.
3. Eat
and be merry.
4.
Stuck
in the middle.
5. First thing to note:
important dates.