Okay over at Jenny Matlock: Saturday Centus
You get some real interesting writing prompts.
This is my second one I have done.
I'm really having lots of fun.
Go check out others and see what they have come up with.
Maybe write one of your own and link up.
Such fun!
http://jennymatlock.blogspot.com/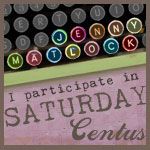 So, for this week...
WORD COUNT - Up to 100 words AND the 3 words of the prompt (103 total maximum words - For those of you that want more words please feel free to link up multiple stories!)
STYLE OF WRITING - Any
USE A PICTURE IF YOU LIKE
THE PROMPT THIS WEEK IS: "Surprise! I'm pregnant! "
The regular restrictions apply: PG, no splitting of the prompt, play nicely and visit the other entries, any style or genre of writing you prefer.
Frolicking the country side
What was to be cherished memories
Of snapshots of a Summers love
Turns into a tiny new life
That will bind us forever
Turns into a romance of a life time
No longer a Summer love of cherished memories
Have you are anyone you know have a surprise pregnancy?