Okay everyone this one is simply and it is something we should do everyday not just on Thursday's. The blog this wonderful little diddy comes from "Undeserving Grace". Don't you love the name?
Her link is below as well as this link:
So my Thankful list is for this moment and time in my life:
1.) That I have a car to drive
2.) My husband has a job
3.) That I have this computer and Internet service to enjoy the blogging and other wonderful world wide services
4.) That I can cut hair
5.) That the weekend is almost here
See wasn't that easy?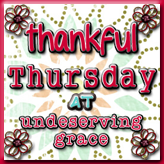 Do you have a running Grateful list you add to everyday?