1. Do you know what your REAL hair color is?
I do know! But.. the real question is will I tell. No! I don't think so!
2.
Do you plan ahead for summer, or fly by the seat of your pants?
I like say I fly by the seat of my pants. But there are a few things you surely have to plan for. But it is always fun to go my the seat of your pants. That is the kinda gal I am.
3. What is your favorite meal to cook?
I really don't like to cook. I use to it was my homemade meat loaf. But now I would say it is my tacos.
4. Do you get offended by not receiving thank yous?
No not really. It isn't the fifties any longer. Though it is really nice to receive one. I just think that it is a dying art form. One unless it was taught in the home doesn't happen. i do send them out.
5. How did you meet your best friend?
Well.... The gal I round around with right now I meet in my Mary Kay business!
One I meet where I use to live and she lives in another town so we don't see each other.
My other best girlfriend I meet where I worked many moons ago.
Then I have a couple that I pray with and they all live in different states now. But we call and pray on the phone together all the time.
This is what happens when one moves allot. You get lots of special women in your life that are your

BEST girlfriends.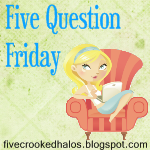 Are you a Quizzes kinda person?