Another Q & A I found this evening before I was getting ready to turn off the computer for the night. I guess I shouldn't had that last cup of coffee so late in the day. I'm having a great time through these little questionnaire's. I'm actually getting to know me a bit better too. Funny how it makes me remember and think upon things I haven't given much thought too. It will be a record recording for my grandchildren to enjoy and learn fun facts about their "Mema." I'm trying to figure out on to print this all off for them so that they will have this blog as journal of funny things about their "Mema." My Anthony, asked if he could have a copy of my blog. I must say I had to chuckle. They love it when I do things that they can have fun learning about me and my thoughts.
This one come from "Praise of a wife and mommy". You can link up with her on her Linky at:
http://praisesofawifeandmommy.blogspot.com/2011/03/meet-me-monday.html#links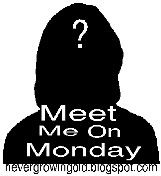 Questions:
1. What is your favorite way to eat potatoes?
I think I will say mashed! I use to have a thing for baked because you can stuff them with so many goodies. When I was really young I loved french fries! Geez! I think potatoes anyway you can have them or about the greatest! Being a diabetic I don't eat them like I use to. One of the yummy foods I had to give up.
2. What was the last package that was delivered to your house?
It was Mary Kay product. It is always exciting to receive my box of goodies. Then it is time to label and put on selves. Unless I have clients waiting on the product then it is delivery time. In fact this weekend I received my new business cards. I am getting ready to order some new product here real soon new releases coming. "I JUST LOVE MAKE~UP!"
www.marykay.com/ehernandez1
3. What is your favorite scent that you love to smell?
Since I'm longing for Summer I am going to pick the scent of Summer breeze. I love so many scent's depending on my mood and what is going on. Or maybe I just want to enjoy the scent's and aroma's that are surrounding me at the moment in time.
4. Do you smoke?
NO! Have no plans too either!
5. Are your parents married or divorced?
Sad to say they are divorced. But I never missed the fact that my dad wasn't in my life. I have as an adult gotten to know him. Which is really COOL! Both my dad and step-dad where in military so we never where in one spot long. So besides us being on the move so was dad. Life was good I was blessed with a super step-dad that I saw as my dad. So I had two dads to love and them to love me.
So what are you doing this fine Monday?